About this item
★【5 Ways to Unlock the Smart Deadbolt Lock】The smart Lock front lock unlock/lock through TTLock App,fingerprint,smart card,mechanical keys or enter passcode on the keypad.No longer worry about losing or forgetting your keys.With this keypad deadbolt lock,no need to keep guests waiting from outside.
★【Voice Control & Remote Control】The smart keyless entry door lock is perfect for airbnb short-term rental hosts,rental property management. Add a Wi-Fi gateway (sold separately) to remotely control your digital door lock as well to pair with Alexa to enable Voice Control.
★【3D Technology Fingerprint Sensor】Biometric smart door lock possesses a more sensitive fingerprint reader,it can quickly and correctly recognize when your finger is correctly put on the touch screen.Free you from mess of multiple keys and busy hands.
★【Smart security lock】You can check the unlocking record through the app to know when your children come home,and when your family forgets to close the door,the keyless smart gate lock will lock automatically to protect your family's safety.(can be 5s, 10s, 30s, 60s or custom seconds)
★【Easy Installation】With the detailed manual and instructional videos.Easy to install in minutes with just a phillips screwdriver.No locksmith needed.just change the direction of the door in the TTLock app(the door thickness of 1.4 inch-1.97 inch).


TTLock
its multiple functions always satisfy your requirements
●Send temproary passcode/ekey remotely
●Manage passcode, ekey
●View access logs
●Open the lock by app remotely or nearly.
●Passage mode setting
●Upload attendance records to APP remotely without gateway(Super useful features)
●Get the unlock records
●Send temporary password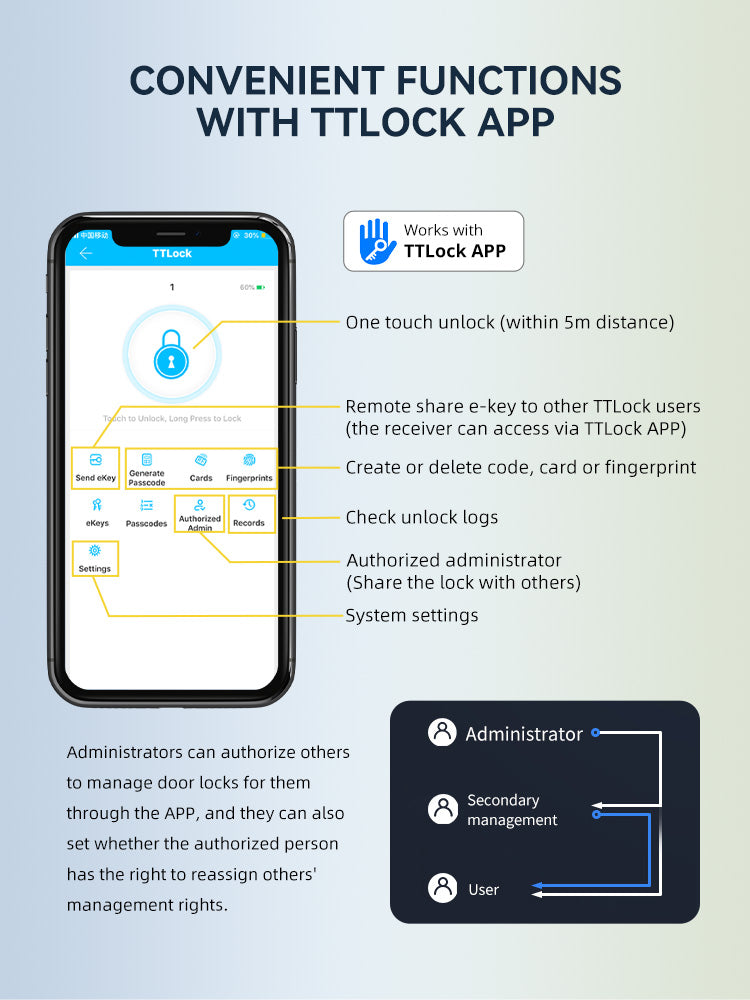 Technical Specification
Connectivity Bluetooth 4.0, WiFi (G2 Bridge is required)
Identification Mode TTLock App, Fingerprint, Card, Code and Bluetooth
User Capacity 120
Identification Time Instant recognition under 0.3 seconds
Code User-defined 4-8 digit Keypad
Compatible Smartphone iOS7.0 or above, Android 4.4 or above
Remote Access Yes, G2 WiFi Bridge is required
Mechanical Key Override Yes
Micro-USB Backup Power Interface Yes
Working Voltage 6 V (4 X Alkaline AAA Batteries)
Battery Life Up to 6 months (8,000 times access)
Compatible Smart Home Eco-system Alexa and Google Assistant (G2 Bridge is required)
Door Thickness 35 - 55 mm
Door Handing Reversible (Left and Right)
Case Material Aluminum Alloy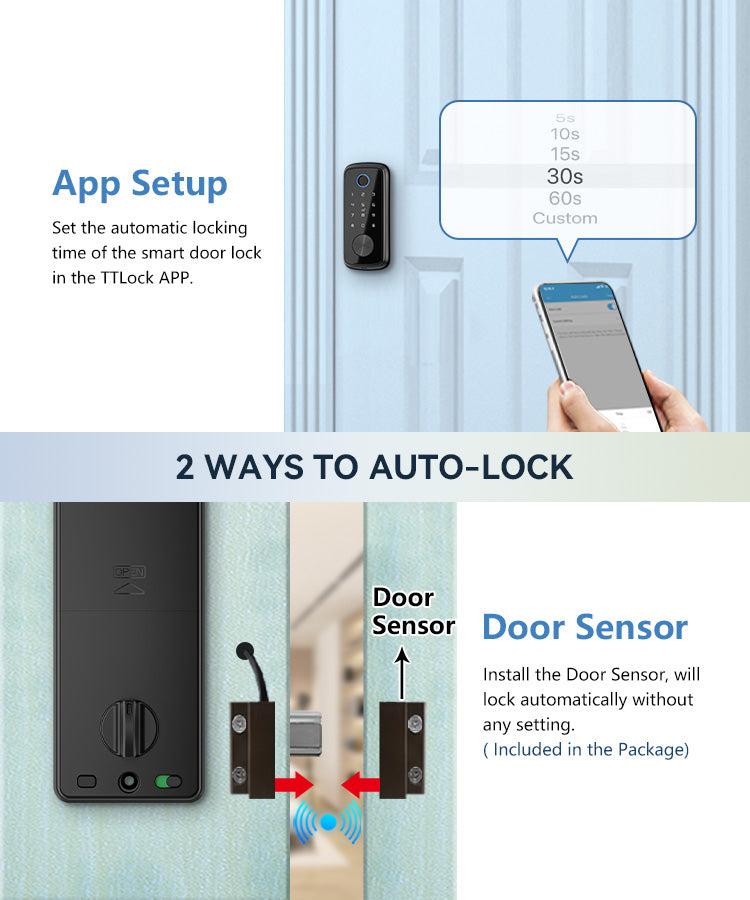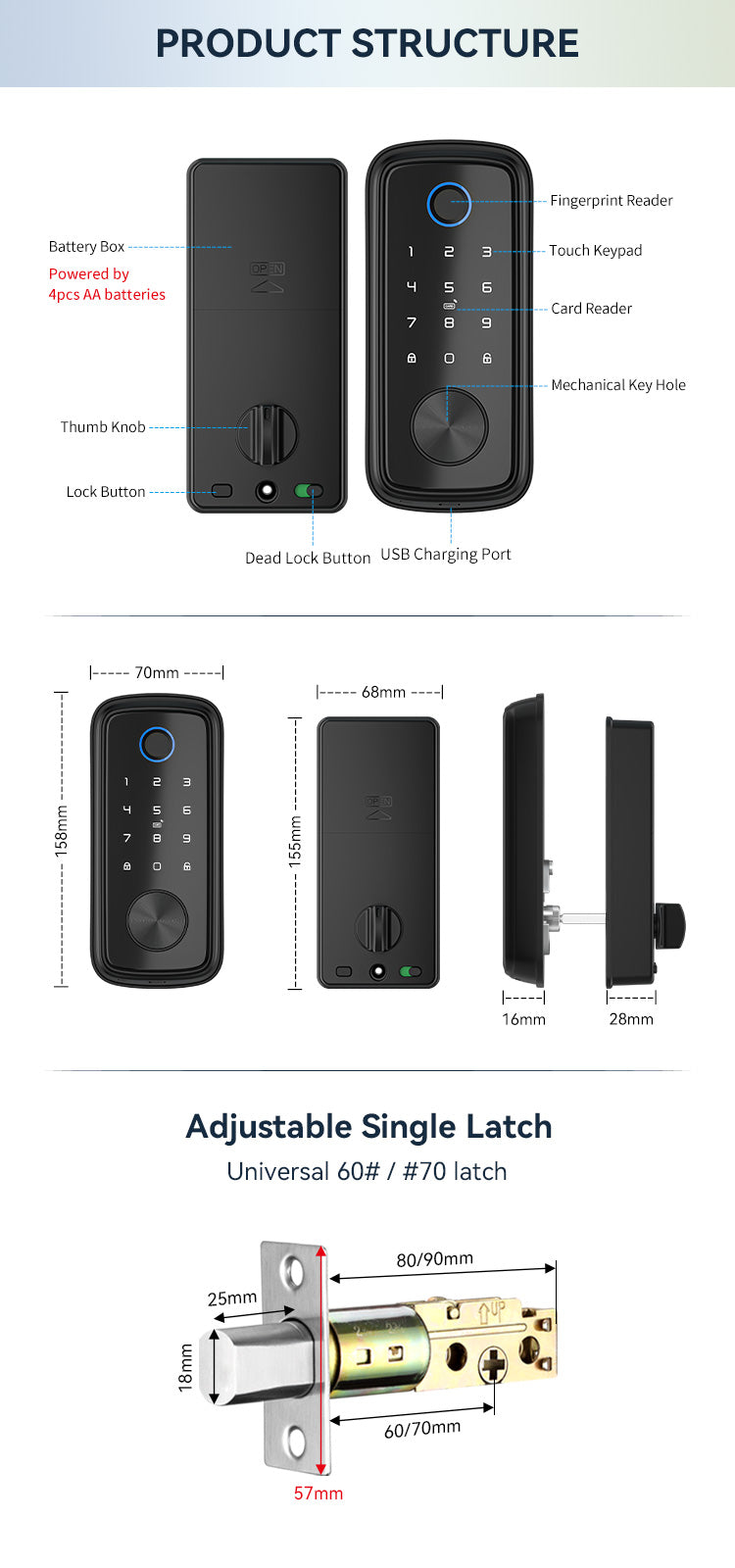 YRHAND as an innovative smart lock company, who has been helping to make access smart, simple and safe in the past 10 years. With the current rapid growth of apartment & building managements globally, we realized that an increasing number of property owners were facing similar access management issues. Thus, YRHAND is committed to deeveloping smart living by moving the inconvenience of awkward keys handover mostly among owner, friends, family members and tenants.
For more information about our privacy practices, if you have questions, or if you would like to make a complaint, please contact us by e‑mail at yrhandlock@outlook.com.
Tel: +86-769-89399989
Address: No.1310, B Block, Global Trade Square, Dongguan City, Guangdong 523770,China.